"The customer experience with our brands is no longer delineated or restricted by the physical space or products.   A customer's assessment of our brands is not just restaurant ambiance, food quality, or server interaction.  The customer's interaction with our brands and the start of the purchase decision identified by Google as the "Zero Moment of Truth" begins in the digital world; when our potential customer is nowhere near the front door of our restaurants." – Robin Chakrabarti, Empresario Capital Partners
Technological advances permeate practically every aspect of our daily lives. It's impossible to avoid. Unless you've decided to go off the grid, become a hermit, and live off the land with only your pet moose as company, it's very likely that your life has already been taken over in some way, shape, or form by the digital age.
This change in the way we conduct ourselves is more prominent than ever when it comes to our shopping habits. While online shopping has continued to grow more popular over the past decade, according to Forrester Research, online shoppers only make up 9% of the consumer base. That leaves 91% of shoppers still making the trip to local stores to make their purchases.
Consequently, this trend means retailers had to come up with new ways to combine the traditional with the tech savvy to provide effective, innovative, and unique shopping experiences.
Here are just a few ways that businesses are engaging their customers through technology and innovation:
1) INCREASED ONLINE PRESENCE
THEN: Being a salesperson isn't what it once was. Shoppers would flock to stores and trust the professional sales people who worked there to provide information and resources to help them decide what to buy.
NOW: Thanks to the vast availability of information on the internet, it's a far more common occurrence for consumers to research their purchases online. This doesn't only refer to visiting retailer sites but also includes researching product reviews. A recent survey conducted by Dimensional Research stated that online product reviews influence the buying habits of 90% of consumers.
HOW: Retailers and businesses have increased their online presence by improving website styles and functionality (including mobile device compatibility), spread their branding across multiple social media channels, and now encourage online reviews and feedback.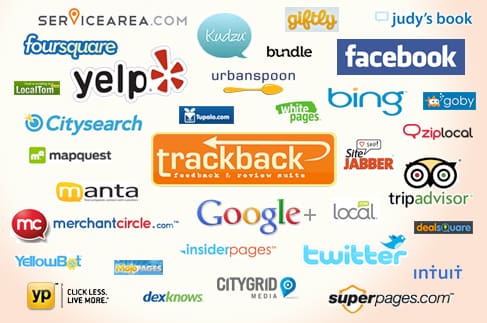 2) TARGETED IN-STORE MARKETING
THEN: A man walks into a store to buy a hat. He searches for the hat he wants, he listens to the salesperson tell him about the hat, and he purchases said hat. He now owns a jaunty hat.
NOW: Thanks to the world we've established online (see point #1) that man now goes to several different stores after already researching where he can buy the hat and subsequently avoids the sales staff because he already knows what he wants. But then how do retailers engage people in the store other than by using sales staff?
HOW: They do this by using your mobile phone for direct marketing while you're in or near the store. 'Beacon Technology' is a fairly new concept, although it's already in use as a 'test project' by large retailers including Apple Stores, American Eagle, Walgreens, and Macy's. By using your phone's bluetooth and/or GPS signal, beacons placed in retail stores can recognize when you enter the building, monitor what area of the store you're shopping in, and push coupons and special offers to your phone based on your shopping habits.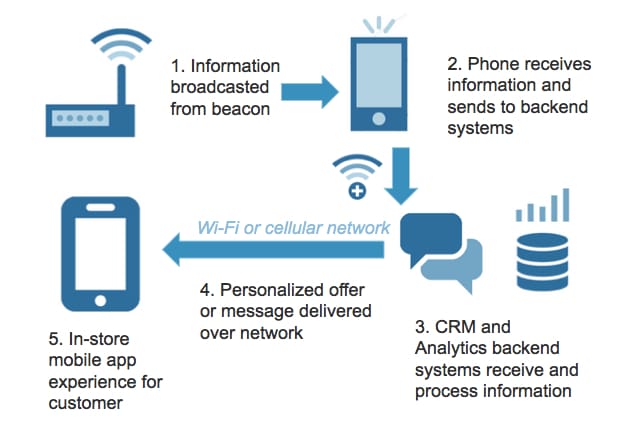 The problem many people are experiencing with this sort of interactive in-store marketing is that it feels a little too 'Big Brother is watching you.' While beacon technology relies on you having certain permission settings on your phone, many people likely don't know how to set specific permissions for different features. This form of direct marketing has been referred to as intrusive and unwanted while others love the convenience of receiving information, deals, and push-ads while shopping.
Despite any negative opinions, the technology shows no signs of abating. There are currently 50,000 beacons in stores across North America. That number is expected to increase to 5-10 million beacons within the next year.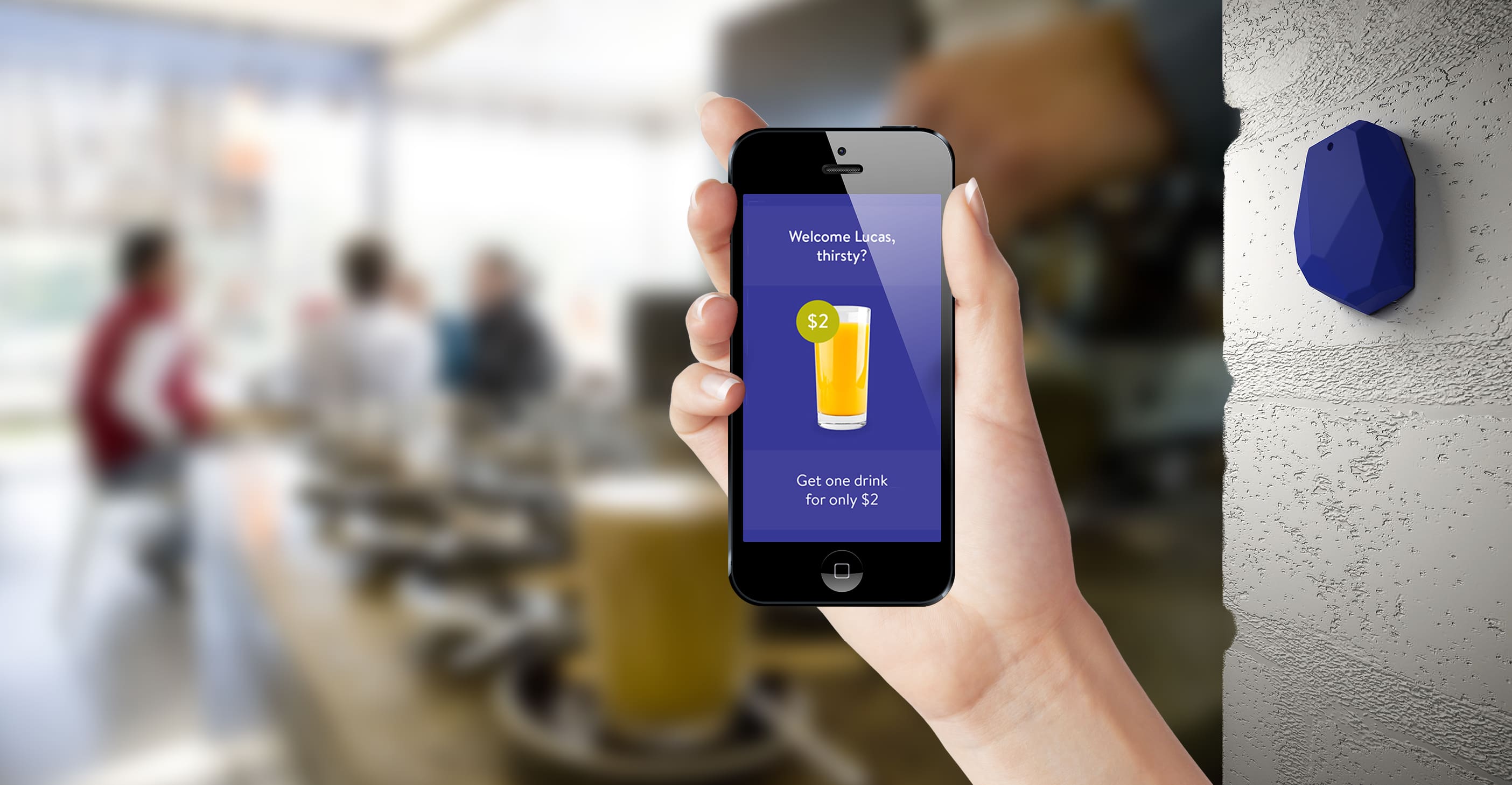 3) DIGITAL PAYMENT
THEN: Cash or credit dominated the way we spent our money.
NOW: How many people have a chip in their bank card? How many more use a digital wallet to organize their cards? Digital payments are the next logical step when it comes to mobile technology advancement and the way we purchase goods and services in stores.
HOW: According to a report in 2014 by Capgemini and RBS, the increase in both e-payments and mobile payments is putting increasing amounts of pressure on industry stakeholders to adapt accordingly. Mobile payment transactions alone are expected to grow by 60% in 2015. The real road block here is consumer willingness to trust the security of digital payment options and it'll be up to retailers to be able to reassure consumers in order to maintain consumer loyalty.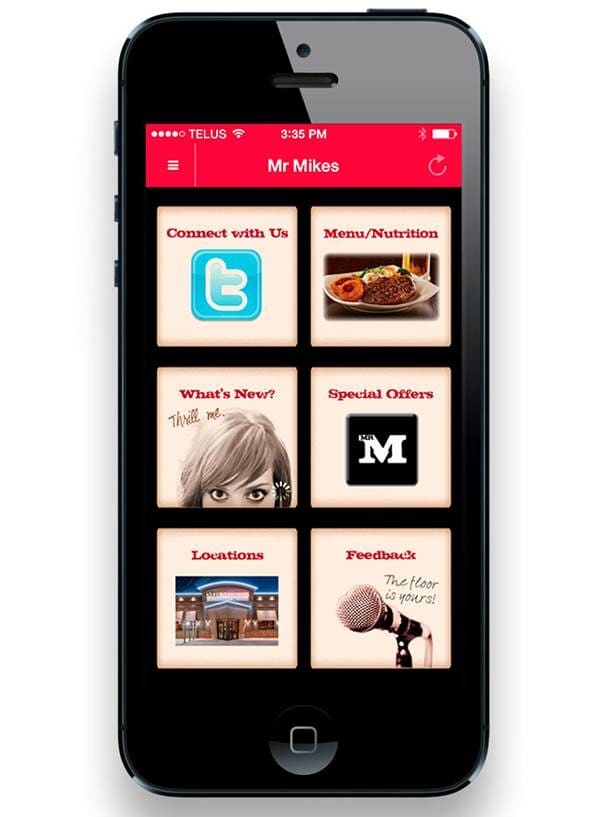 4) HOLOGRAMS AND TRANSPARENT TOUCH SCREENS (in other words, 'Star Trek')
THEN: Once upon a time we received glossy catalogues in the mail and had to speak to real people when shopping. Ah the good old days.
NOW: Social media has clearly damaged upcoming generations from being able to effectively interact with other human beings. Retailers are aware of this and they're already adapting accordingly. By introducing technological advancements directly into stores they hope to encourage current and future generations to keep spending money.
HOW: Using technology developed by researchers at the Massachusetts Institute of Technology, stores are now testing interactive transparent screens as storefronts. These screens allow shoppers to view deals, catalogues of goods, right on the window of the store without ever having to enter. This same technology can also be installed onto dressing room mirrors to supply product and accessory information without obstructing the customer's view. Hologram technology is also being used in a variety of stores in the form of greeters that can be triggered when people pass by. Interactive forms of these see-through salespeople that can answer questions are also in development.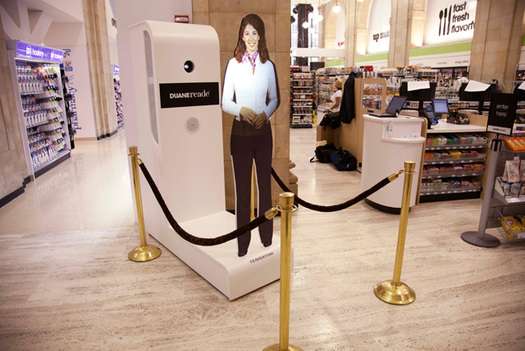 We're not shopping on Mars just yet, but we're definitely moving into an era where technology not only influences our buying trends but also helps to make shopping a more interactive experience for a world that thrives on advancement.