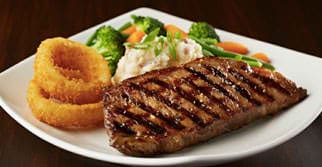 Overview
MR MIKES started as a casual cafeteria-style grill in Vancouver over 50 years ago. There were no frills and no gimmicks, just affordable food in a cheerful atmosphere that offered great food and customer service.
At the end of 2010, RAMMP Hospitality Brands added the MR MIKES franchise to its portfolio beginning the task of rebranding to accurately define MR MIKES as a unique steakhouse experience. This process would ultimately lead to the creation of a new dining category we like to call SteakhouseCasual.
Staying true to the roots, we are embarking on a revitalization of all MR MIKES restaurants to create an atmosphere that is relaxed and genuine. Leaving behind the tired décor of the past we're rejuvenating the atmosphere with memorable photos, warm wood grains, distressed metals, and artwork that celebrates the essence of the brand.
Why MR MIKES SteakhouseCasual?
With over 50 years of experience, a sumptuous menu, and a freshly upgraded brand, MR MIKES is perfectly positioned to expand into new markets and establish SteakhouseCasual as the new standard for steak house dining.