Your limbic system (that tingly bit in your brain) is biologically programmed to avoid situations that cause you stress, anxiety, or are classed as a 'danger'. It's the part of the brain that runs on autopilot and encourages you not to do things that will hurt you or make you unhappy. If the workplace you're building is not a happy place then several things will happen in the brains of your team and employees. 
First, their limbic system will let them know that 'the office' is a place that makes them miserable. They'll lose motivation and that high-powered, multi-tasking, team member you're used to will be reduced to an unproductive mess as their very biology struggles to remove themselves from the situation.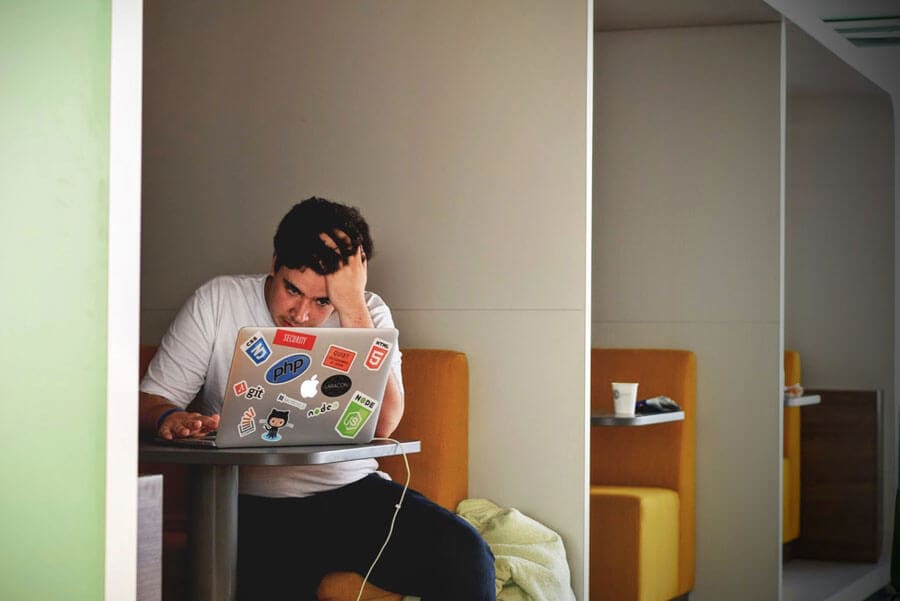 The only way to ensure you're nurturing a productive environment is by keeping your employees happy and creating a workplace where people actually want to be. Here are a few examples of companies that have taken the plunge to keep their employees limbic systems from overheating: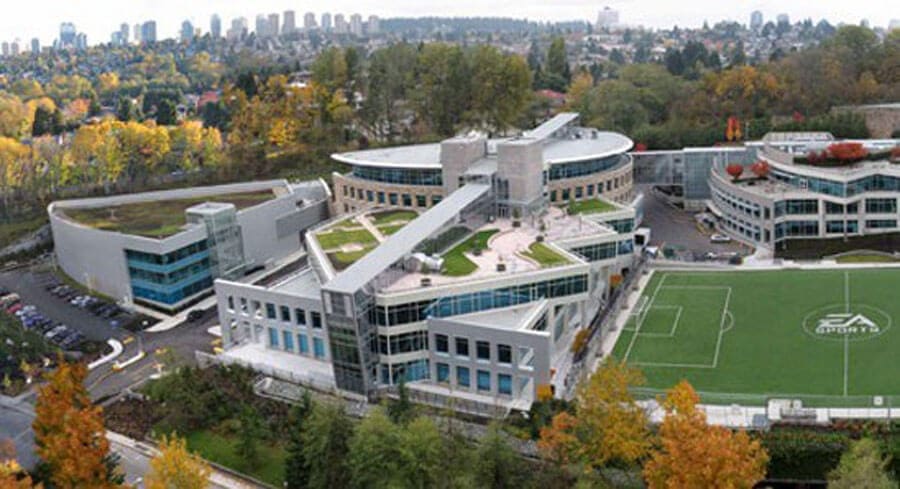 1) Video game giant, Electronic Arts located in Burnaby, BC is notorious for giving its employees all they could ever want in a workplace. There's a variety of restaurants, gymnasiums, sports courts, coffee shops, all within the workplace, and all free to employees. Other perks include free video games, and a soccer field . . . located on the office roof.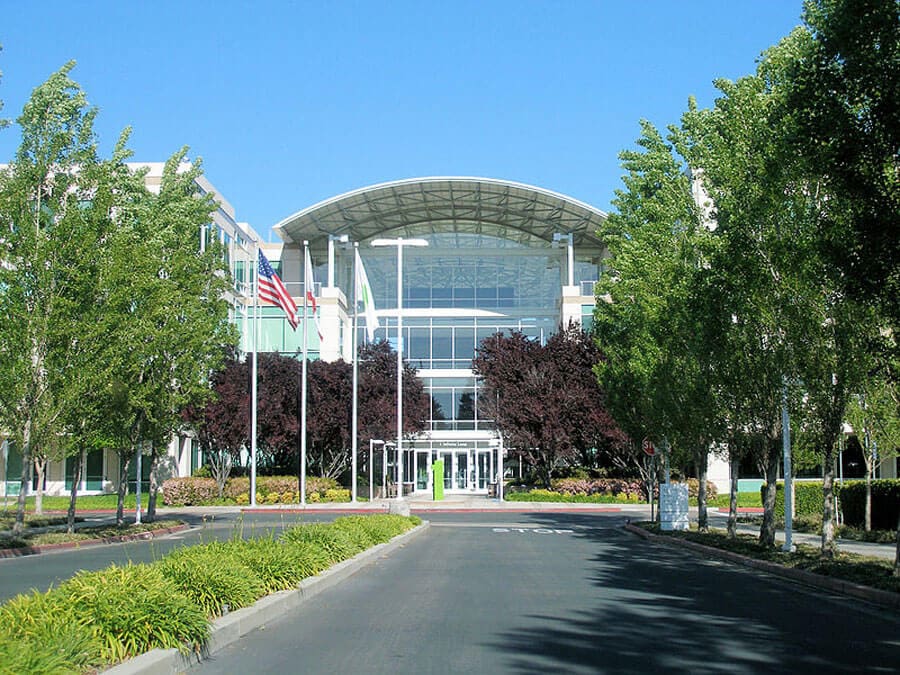 2) In a similar fashion, Apple Headquarters in Cupertino, CA caters heavily to employees by providing a comfortable and visually appealing workplace. Their cafeteria alone features such a variety of fresh, custom food choices that it's almost a daily adventure in itself. Want a custom smoothie? There's a bar for that. Feel like a pizza with your choice of toppings cooked in a wood fire? There's a bar for that! Want a sandwich? Which of the 11 bread choices would you like?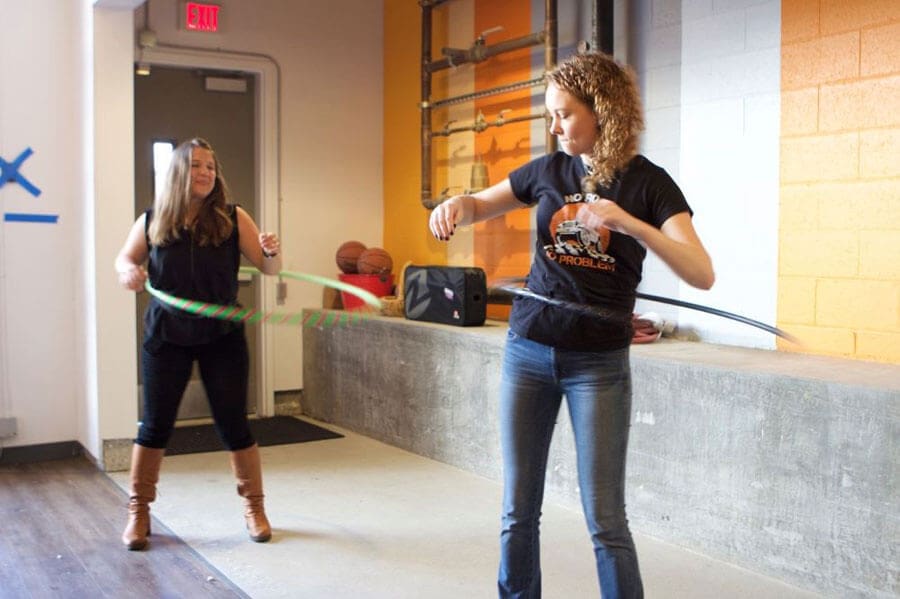 3) Then there's ZestFinance in LA that adheres to a strict 'no suit' policy even though the industry it's operating within generally demands it. Through this, they're providing a comfortable 'non stodgy' working environment and attracting the best young talent.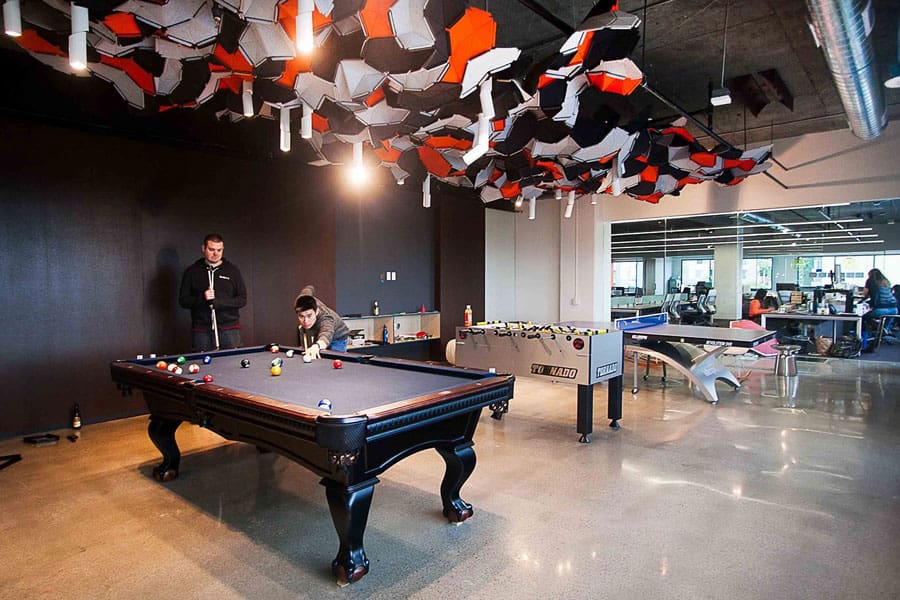 4) Livefyre in San Francisco is a communications company full of self proclaimed 'cool nerds' who have an 'open' break system, enjoy yoga on the roof, and partake in regular in-house trivia nights.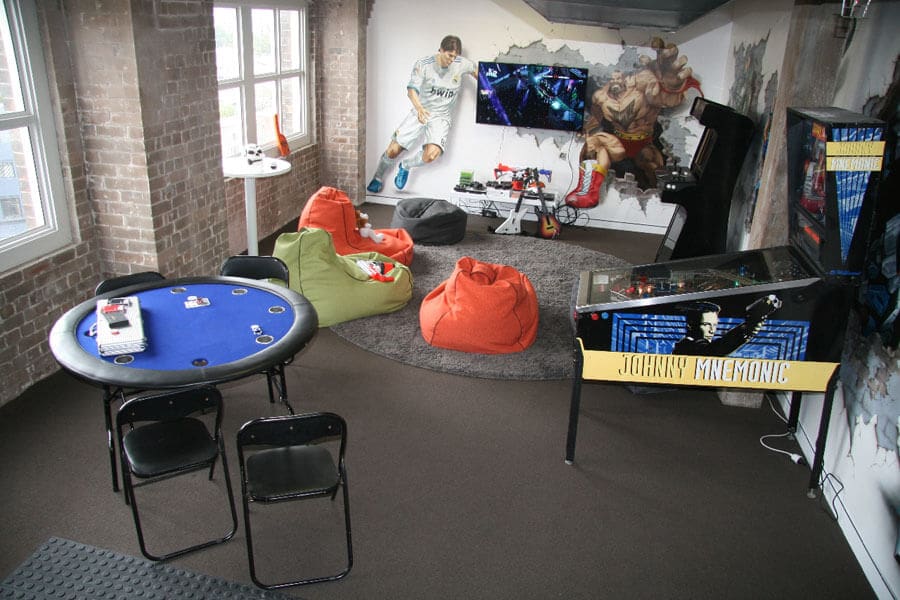 5) The Sales Department at Bigcommerce, with offices in San Francisco, Austin, and Sydney, start each day with a ping pong tournament. The offices are fitted with swings for those looking to take a relaxing break, and each year there's an interdepartmental paintball tournament.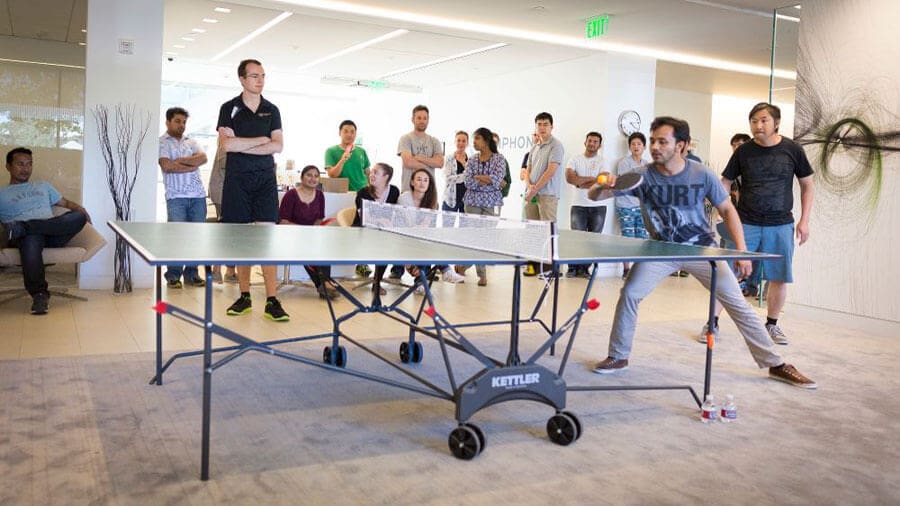 6) Symphony in Palo Alto and New York connects clients with open-source communication platforms, and also treats its employees to massages, margarita machines, nerf gun battles, bean bag chairs, treats, and more. 
No one is saying you need to outfit your entire boardroom with bean bag chairs or endure daily assaults with a nerf gun, but taking small steps to improve the happiness levels in the workplace not only shows that you're making an effort, but it'll also increase the productivity of your team, reduce the turnover rate, and attract more people to your business. 
In today's climate, being an inclusive, culturally well-balanced company is just as important to your employees as benefits, pay scales, and opportunity for advancement.  
"A job is work. But work does not have to be a job. Creating an environment of support, encouragement, and fun will lead to more engaged, happier team and the outcome will be more work." – Al Cave, Empresario Capital